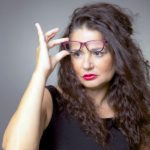 Dalia Shimko (b. 1962), is an Israeli film and theater actress as well as a theater director, and founder of Ensemble Aspamia.
Shimko was born in Czechoslovakia (now Slovakia) named Susanna Shimkovh, and immigrated to Israel at the age of six.
After her military service, she participated in the movies "Zits 80" and "Repeat Diving ", but it was her role as Noa, in "Noa bat 17" (1982) that made her a local star and opened her the door to the theatre. 
In 1984 she went to London to study at the Webber Douglas Academy. 
In 1985 she returned to Israel and continued to appear in plays (Soul of a Jew, 1982; Ghetto, 1984, Moliere, 1986); Films (One of us, 1989) and television series (On the fence, 1982-87; Bat Yam New York 1999; The Eight, 2006) to name just a few. 
On 1991, she began her directing career in the theatre, and since then she brought to the stage dozens of productions, in Acting academies (Blood Wedding, 1991; Spring Awakening, 1993), theatre festivals (The Snake, 1993) as well as in Habima, the Israeli national Theatre (Crack in the Concrete, 2007) and many others.
On 2003 she founded her own Fringe group – Aspamia – which first operated as an independent group, and later became an ensemble supported by the Ministry of Culture.
Since then the ensemble has brought to the stage over 20 productions, all of which directed by Shimko.